Altrad Belle is an established manufacturer of light equipment for the Building and Construction markets. Based in the Derbyshire Peak District. In 2009 the company became part of the Altrad Group, with its head quarters in Montpellier, France.
Our extensive product range includes:-
Compacting : Forward Plate Compactors, Reversible Plate Compactors, Trench Rammers and Twin Drum Rollers.
Mixing : Tip-Up Cement Mixers, including the famous Minimix 150, Site Mixers, Upright Mixers and Paddle Mixers.
Concreting : Pokers, Flexible Shaft Pumps, Screeds, Trowels and Finishing Tools.
Pumping : Pumps.

Cutting : Floor Saws, Tilesaws, Bench Saws, Block Splitters, Paving Tools and Diamond Blades.
Breaking : Hydraulic Breakers, Hydraulic Power Packs and Hydraulic Cut-Off Saw.
Moving : Hi-Tip Dumper, Minidumpers with various accessories including Snow Ploughs, Flatbeds, Turf Tyres etc.
Generators : Open set, Petrol Generator range
Pressure Washers : Petrol & Diesel cold water, high-pressure, high-flow Pressure Washers
Wheelbarrows : Altrad Belle, Altrad Fort, Altrad Limex and Altrad Richard Wheelbarrows.
Scaffolding : Plettac Scaffolding, Access Towers, Plettac Staircases, Weather Protection, Frame Systems & Plettac Contur, Plettac assco Grandstand system .
Our Product range is distributed exclusively by rental companies and retailers of Construction Equipment.
A European Manufacturer of a full range of Light construction products, with its own production site in England.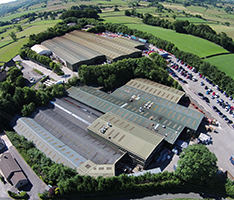 Sheen Factory (UK)
Altrad Belle products are specially designed for the rental industry:
Altrad Belle designs all of its machines taking into consideration: the expectations of the customers, the specific needs of each market as well as the standards currently in force.
A dynamic and proactive Customer Service Department:
Altrad Belle, ensures a
fast response
of the Spares and After Sales Service Organisation. Moreover, our customers have the opportunity to order Spare Parts online 24 hours a day, 7 days a week at
www.Altrad-Belle247.com
Commercial support available.
Altrad Belle Sales' Administration Department will provide you with an optimum service:
Timescale requests
Machine availability & stock management
Fast & simple procedure for setting up of accounts
Despatch & delivery
Follow up of orders
Follow up of logistics: sending orders as soon as possible and in the best conditions & follow up of the delivery.

The combination of design and manufacturing expertise, allied to a high level of customer service, means that Altrad Belle offers its customer a truly global service.