09/08/2010

Multi-Coloured Belle, with Executive Hire News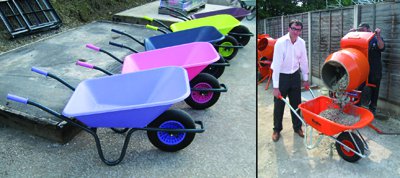 Following an exclusive invitation from Belle Group MD Ray Neilson, EHN seized the opportunity to visit the company's manufacturing facility in Sheen, Derbyshire, for a preview of its latest product developments, including several from the ranges of parent company Altrad, which acquired Belle last year.
The Fort Cosmo wheelbarrow is now available in four new eye-catching colours, specifically for the UK market. UK & Ireland Key Accounts Executive, Samantha Johnson, who played an important role in creating the new range, believes the lime, lavender, blue and pink hues will appeal to fashion conscious gardeners and people with horse stables. She adds that hirers can offer them as retail items. 16 fit on a Euro pallet and they can be delivered in mixed colours.
Also new is the first specifically Belle-branded barrow, the 100-litre Warrior, finished in the company's traditional orange livery. Ray Neilson (pictured) describes it as "ideal for contractors, as it has a virtually indestructible high-density polyethylene tray that is easily cleaned and enables bricks and materials to be loaded quietly. The deep-tread tyres resist punctures and a heavy-duty electroplated frame is incorporated. It is perfect for use with Belle's popular MiniMix 150 mixer."
Other newcomers include the 85-litre Weekender, which has a galvanised tray and uses the same frame as the Cosmo, and the 100-litre TK-100, nicknamed the Rancher, which is dark green and suitable for gardening and light construction use. There are also three additions to the Limex barrow line-up: the Garden 80 for homeowners, the Standard 85 for building contractors, and the larger Standard 100.
Belle is also introducing a number of staircase tower systems utilising Altrad's 'Contur' compact, modular scaffolding range. "This represents a great opportunity for hirers who do not offer conventional system scaffolding," says Ray. "It enables them to benefit from demand for the kind of access solution required during refurbishment work at schools, hospitals, houses and other buildings, as well as at loading bays. These products are typically needed for several weeks at a time."
Belle will display some of these new products at IOG Saltex in Windsor, from 7-9 September.