27/09/2019
Hirebase invests in the Altrad Belle DX 1000HT Hi-Tip Dumper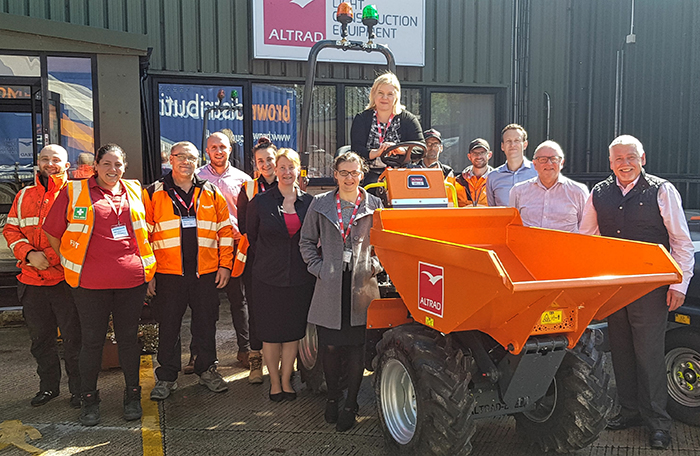 With more than 130 Hirebase outlets located within a number of Buildbase and Plumbase locations; Hirebase is a company committed to offering a professional hire service through the highest quality and standard of tools and equipment.
To do this they invest heavily in branded plant, tools and equipment, which all undergoes a stringent evaluation before its introduced into their hire fleet.
Altrad Belle as a strategic supply partner and a HAE Hire Industry Trusted Supplier (HITS) recently hosted a team of senior Hirebase personnel which was headed up by their Managing Director Adrian Watts and Hire Fleet Manager Leigh Tholet
Whilst there was a number of new; innovative and exciting products on show at the Sheen factory the one that really impressed during a stringent evaluation was the companies new DX 1000HT Hi-Tip Dumper.
Specifically designed to be owned by a rental company or professional operator the DX 1000HT Hi-Tip Dumper sets new standards for safety, strength, operator comfort and convenience in conjunction with very high site productivity
Adrian Watts, Hirebase MD "Its pleasing for our business to be able to continue to support UK manufacturing by investing in what is undoubtably a well-designed and well-built machine; We are happy to put this into our fleet as we continue to offer our customers the best and latest machines available"
Leigh Tholet, Hirebase Hire Fleet Manager "Altrad Belle continue to provide us with the most rental proof machine machines available within their category and undoubtable the new DX 1000HT Hi-Tip Dumper will continue this core criteria"
(Pictured) Bob Williams (Front right) UK & Eire Sales Manager for Altrad Belle hosting the team from Hirebase; with Adrian Watts MD next to him and Leigh Tholet Fleet Hire Manager seated and looking to drive the new DX 1000HT Dumper straight out of the Altrad Belle (Sheen) factory.