28/05/2019
Altrad Belle @ Plantworx '19 – The NEW BWX 15/250!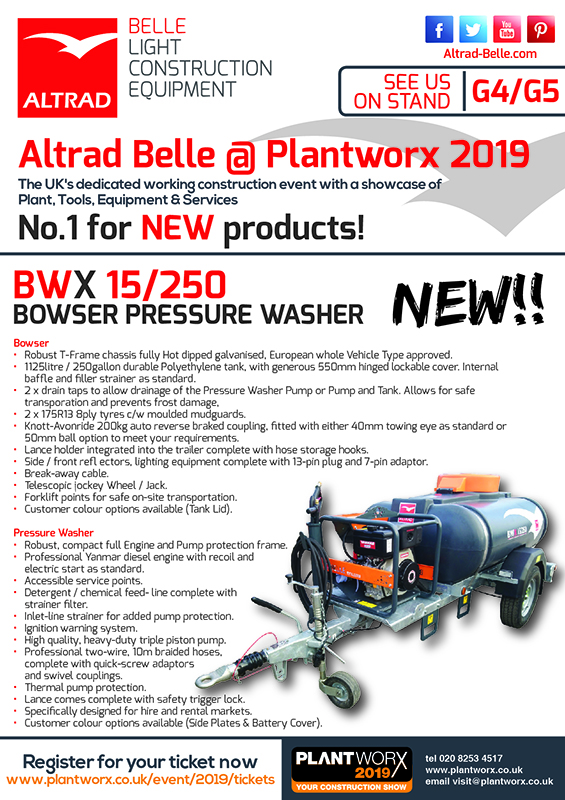 Plantworx 2019 'The UK's dedicated working construction event with a showcase of Plant, Tools, Equipment & Services' is edging ever closer and is now just 2 weeks away. The exhibition is Free to Visit with Free Parking and fully packed with 3 Days of Live Demonstrations.
At the exhibition, Altrad Belle will be showcasing the expansion of the company's already extensive range of Pressure Washers with the launch of another NEW & Exciting product - the BWX 15/250 Bowser Pressure Washer.
This heavy-duty road-towable pressure washer has "Whole Vehicle Approval" thus allowing for towing on public roads. It comes with a 1125 litre / 250-gallon durable HDPE water tank; which has the added benefit of an internal baffle to prevent water surge when towing; a frost drain, and filler strainer are also fitted as standard
Coupled to the bowser is the companies 8.9hp Yanmar Electric-Start Diesel Engine Pressure Washer which boasts an array of features.
There will be much more to see on the Altrad Belle stand including another product launch and as well a selection of 'Show Only' deals. The exhibition takes place for 3 days between the 11th – 13th June at the new venue, England Arena and Events Centre (EEAEC), on the outskirts of Peterborough
You can register for your Free Ticket at the following address:- www.plantworx.co.uk/event/2019/tickets
We look forward to seeing you all at Plantworx 2019.
You can also keep up to date with all the build-up at www.Altrad-Belle.com & www.plantworx.co.uk