21/05/2019
Altrad Belle @ Plantworx '19 - What's NEW for 2019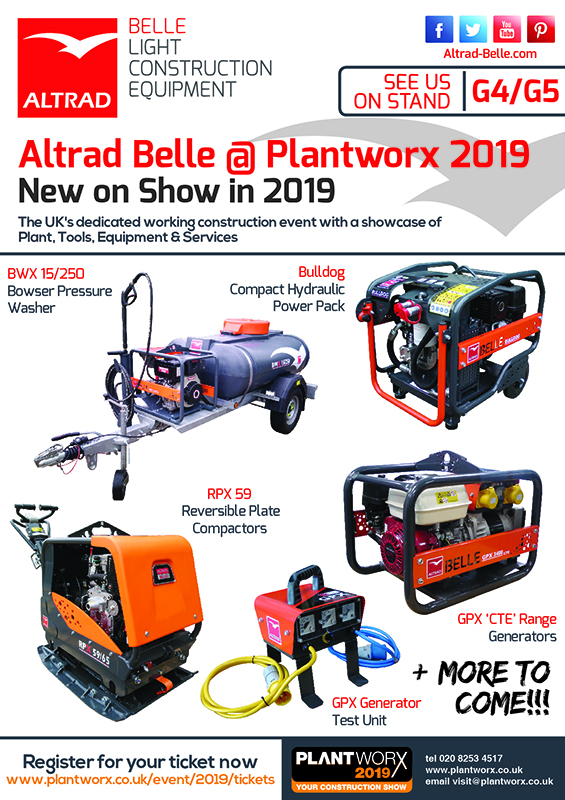 Plantworx 2019 'The UK's dedicated working construction event with a showcase of Plant, Tools, Equipment & Services' is edging ever closer and is now just 2 months away. The exhibition is Free to Visit with Free Parking and fully packed with 3 Days of Live Demonstrations.
It's an exciting time for Altrad Belle with a number of 'NEW' products being launched in 2019, along with a number of products never seen before at a Plantworx exhibition. Here's a taster of what you will see on the Altrad Belle Plantworx stand for the first time.
RPX 59 Reversible Plate Compactors
The NEW RPX 59 range of heavy-duty reversible plate compactors is being launched to extend the RPX family alongside the RPX 35. Built to withstand the harshest site conditions, it has an improved baseplate design for excellent gradeability, increased travel speeds and a higher compaction force for shorter usage times and deeper compaction.
Hourmeter as standard on Diesel Electric Start & Petrol models and Extension Width options available for more versatility. The perfect solution for the rental market.
BWX 15/250 Bowser Pressure Washer
Having entered the Pressure Washer sector when we launched the PWX range at Plantworx 2017, we now have the BRAND NEW BWX 15/250 Bowser Pressure Washer. A heavy-duty towable pressure washer, comes with a 1125 litre water tank coupled to a 8.9hp Yanmar Electric-Start Diesel engine. The robust chassis is made of 5mm hot dipped galvanised steel and is European whole Vehicle Type approved allowing for towing on public roads, making this ideal for a range of jobs. The washers design makes it well suited for remote and harder to reach areas. The HDPE water tank also includes an internal baffle to prevent water surges whilst the machine is being towed. Ideal for the rental market!
GPX 'CTE' Generators
We re-entered the Generator market when we launched are brilliant GPX range of Open-Set Generators at Plantworx 2017. To accompany them, we now have the GPX 'CTE' range of 110v-only petrol, open set generators are suitable for Tin 12 applications.
GPX Test Unit
Essential piece of Health & Safety testing equipment, designed to offer easy voltage, frequency and amp readings from a Generator output. Ideal to test Generator performance on and off load, making it perfect for on-site diagnostics.
Bulldog Compact Hydraulic Power Pack
An efficient, portable on site power source that is 12% more compact but with the same market leading performance. Comes with integrated Power On-Demand (POD) system and more powerful engine than the standard market equivalent.
There will be much more to see on the Altrad Belle stand including another product launch and as well a selection of 'Show Only' deals. The exhibition takes place for 3 days between the 11th – 13th June at the new venue, England Arena and Events Centre (EEAEC), on the outskirts of Peterborough
You can register for your Free Ticket at the following address:- www.plantworx.co.uk/event/2019/tickets
We look forward to seeing you all at Plantworx 2019.
You can also keep up to date with all the build-up at www.Altrad-Belle.com & www.plantworx.co.uk