30/05/2017
Plantworx 2017 – 1 Week to Go….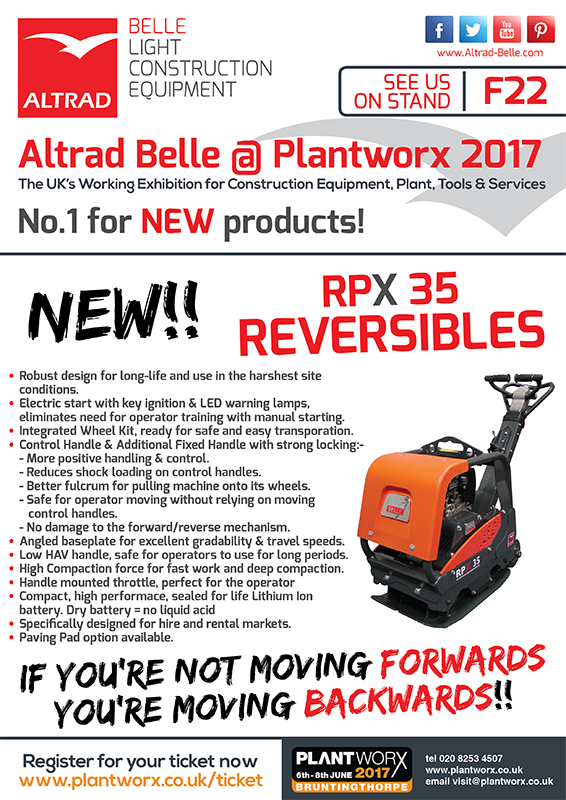 Plantworx 2017, the 'UK's Working Exhibition for Construction Equipment, Plant, Tools & Services' is edging ever closer and is now just 1 week away. The exhibition is Free to Visit with Free Parking and fully packed with 3 Days of Live Demonstrations.
One of the star products being launched at the show will be the RPX 35 Reversible Plate Compactors which supersedes the RPC 30. The RPX range offers greater power, faster travel speeds and can climb steeper gradients.
It comprises a fully integrated wheel kit for safe, easy transporation and Control Handle & Additional Fixed Handle with strong locking for more positive handling & control, reduced shock loading on control handles, better fulcrum for pulling machine onto its wheels and safe for operator moving without relying on moving control handles.
There will be much more to see on the Altrad Belle stand and a selection of 'Show Only' deals. The exhibition which takes place for 3 days between the 6th – 8th June will once again be held at Bruntingthorpe Aerodrome (Lutterworth, Leicestershire)
You can register for your Free Ticket at the following address:- www.plantworx.co.uk/ticket
We look forward to seeing you all at Plantworx 2017.
You can also keep up to date with all the build-up at www.Altrad-Belle.com & www.plantworx.co.uk