15/05/2017
Plantworx 2017 – 3 Weeks to Go….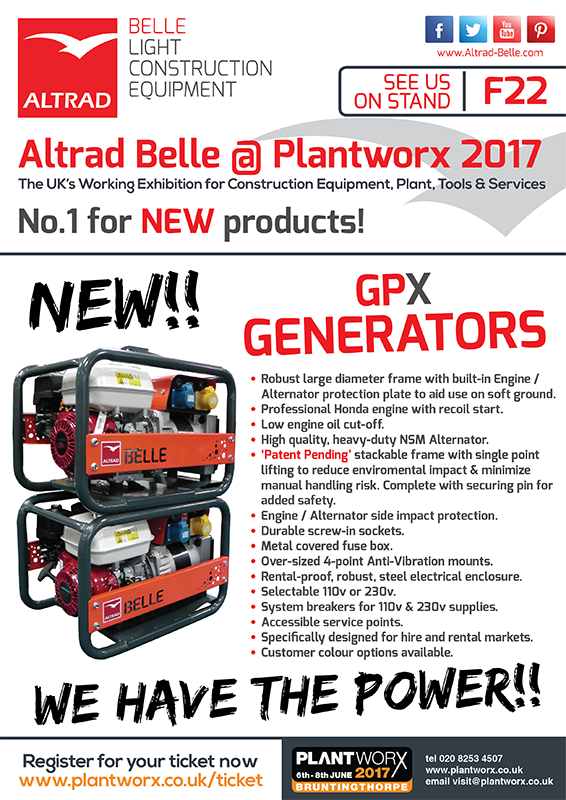 Plantworx 2017, the 'UK's Working Exhibition for Construction Equipment, Plant, Tools & Services' is edging ever closer and is now just 3 weeks away. The exhibition is Free to Visit with Free Parking and fully packed with 3 Days of Live Demonstrations.
Altrad Belle will be exhibiting their brand NEW range of Generators. Back by popular demand and better than ever, their range of GPX open-set, petrol Generators will include innovative stacking frames which use a 'patent-pending' clip system to aid storage and minimise manual handling risks.
A belly plate is also fitted to avoid damage during transportation and to give stability on soft-ground. The Honda-powered units are available at 2.7kVA, 3.4 kVA & 5.0 kVA.
There will be much more to see on the Altrad Belle stand and a selection of 'Show Only' deals. The exhibition which takes place for 3 days between the 6th – 8th June will once again be held at Bruntingthorpe Aerodrome (Lutterworth, Leicestershire)
You can register for your Free Ticket at the following address:- www.plantworx.co.uk/ticket
We look forward to seeing you all at Plantworx 2017.
You can also keep up to date with all the build-up at www.Altrad-Belle.com & www.plantworx.co.uk