14/02/2013

2013 Executive Hire Show Review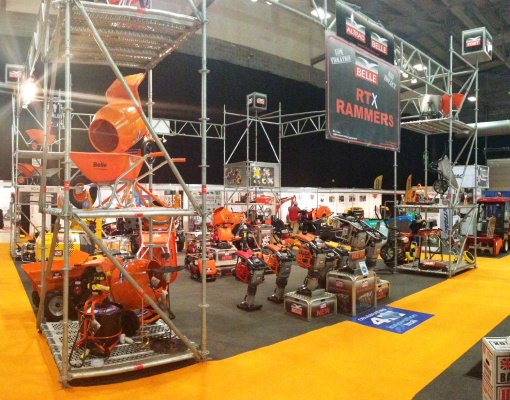 2013 Executive Hire Show Review
Once again ALTRAD Belle made a significant impact and re-enforced the company's position as being 'No.1 For Light Construction Equipment', to the UK Plant & Equipment Hire Industry by successfully exhibiting at the Executive Hire Show, recently held at the Ricoh Arena near Coventry.
ALTRAD Belle used the exhibition to showcase a number of brand New products – some resulting from a two-year research & development programme. This was conducted at ALTRAD Belle's manufacturing facility at Sheen, Derbyshire, and out in the field. A large focus was given to the totally re-designed, 4-stroke 'RTX' Rammer range – the 'X' standing for extra performance. Powerful compaction levels are achieved whilst maintaining a low level of hand-arm vibration.
All of this in a rugged, compact unit, manufactured with ease of servicing in mind.
A true Hirers machine.
Click HERE to find out more...
Another new machine, which is the result of another two-year development programme, is the ALTRAD Belle TDX650 – a twin-drum, pedestrian roller. This is designed for high compaction force whilst giving very low levels of hand-arm vibration, allowing greatly increased usage times.

Click HERE to find out more...

Also on display was the brand new range of High-Frequency pokers – the ALTRAD Belle Vibratech range. These units are available in both 110v & 230v, offering the benefit of 7m abrasion-resistant hoses for deep pours.
Poker head sizes ranging from 38mm – 58mm, and a stylish die-cast, chamfered convertor box for durability.
Click HERE to find out more...
Brand new to the mixer line-up was the AT350 Road Tow mixer. Available with petrol, diesel and electric power options, this approved fast-tow mixer comes supplied with integrated lighting board, high quality wheel suspension, tow-bar, and is ready to be used where the logistics of using a tail-lift equipped vehicle is prohibitive.
Click HERE to find out more...
With visitor numbers up over 2012's show, and a show-stopping stand, this has been, without doubt, the most successful Executive Hire Show ever, with a number of significant orders and enquiries received.
Thank you to all of you who attended and helped to make this show a success for us.