Micro-Trenching
What is Micro-Trenching?
Micro-Trenching is a fast, efficient and cost-effective process of creating a trench in the groundwork of an existing hardscape for the installation of cables / ducts. which allow premises to be connected to the main fibre network.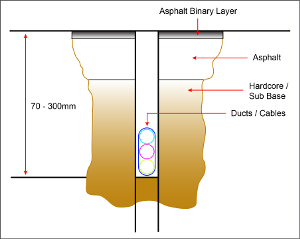 What does the process involve?
Micro-Trenching involves using specialist equipment to cut small trenches, often as thin as 20mm wide and 80mm deep, along the street, with a diamond-tipped circular saw.
Microduct is then installed into the shallow trench and fibre pushed through to the premises.
The whole trench is quickly sealed and the deployment is complete. This minimises disruption and cost without impacting on the quality of the duct installation.
Why use Micro-Trenching?
Conventional trenching is slow, damaging to highways and disruptive. Digging up roads and pavements to install new networks of any sort is never popular. Local residents dislike the disruption and the noise, while councils have to deal with increased congestion on busy roads, particularly if works overrun.
Installers therefore aim to get the job done as quickly as possible to minimise disruption and costs.
Unlike conventional methods, Micro-Trenching is an environmentally friendly procedure that is cost efficient, fast, incurs minimal inconvenience to the community, and produces aesthetically pleasing end results.
Advantages of Micro-Trenching?
• Much cheaper to install than conventional methods.
• Laying the cable is much quicker.
• Typically the road surface can be operational on the same day.
• Substantial reduction in disruption to road users.
• Environmentally friendly procedure.
Micro-Trenching & Altrad Belle
Altrad Belle has a range of products designed specifi cally for the process of Micro-Trenching.
Duo 350X Twin Blade Saw
Twin Blade design to half the time is takes to cut-out the trench.
BHB 25X Low HAV Hydraulic Road Breaker
Ultra-Damped Head reduces the HAV Levels whilst still offering a high breakout force.
Midi 20-140 Hydraulic Power Pack
Compact and portable with built-in Power On Demand system. Ideal power source for the Altrad Belle BHB 25X Hydraulic Breaker.
RTX 60 Trench Rammer with Extension Foot
Strong and durable design with 80mm wide Extension Foot specifi cally designed for Micro-Trenching.
PCLX 'Streetworks' Plate Compactor
HAUC approved forward plate compactor with 320mm wide Dual Force baseplate for 'Streetworks' applications.
For more on Micro-Trenching......please contact Altrad Belle.