02/07/2019
Altrad Belle Unveils 1-Tonne Hi-Tip Dumper
Altrad Belle used the recent Plantworx Construction Equipment Exhibition to launch the latest addition to their already expansive range of Light Construction Equipment, which they are labelling as the 'New No.1 Best in Class'.
The DX 1000HT 1-Tonne Hi-Tip Dumper sets new standards for safety, strength, operator comfort and productivity on site. It is powered by the proven, reliable Yanmar 3TNV76, 3 cyclinder, water-cooled Diesel engine and is jam packed full of new features and improvements to make it the ideal choice for rental companies and professional operators alike.
Altrad Belle Engineering Manager, Martin Hall, said, "It's great to see the new Dumper hit the market and be gratefully received by our core customers, the feedback so far has been fantastic - after all, it is those customers who have asked us for this product. They were heavily involved with the design and development process, their input has been priceless and we'd like to thank them very much for this".
"Manufactured in the heart of the Peak District National Park at the Altrad Belle factory in Sheen, nr. Buxton, it shows the Altrad groups commitment to local employment and design, development & manufacturing here in the UK. It has been an exciting project for us as a team and the development and testing program has gone very well, so I couldn't be happier with the machine"
"There was a great atmosphere on the stand at the recent product launch at Plantworx where in the deluge of mud on the demonstration zone it showed its worth as a serious contender for pole position in the market. It certainly stopped people in their tracks and got them talking about our machine for all the right reasons"
"The continual investment within the Altrad organisation into its people and manufacturing facilities / processes makes for an exciting future which allows us to hit the market with these new products and grow our business. There's much more to come, so stay tuned for more new products in the not too distant future".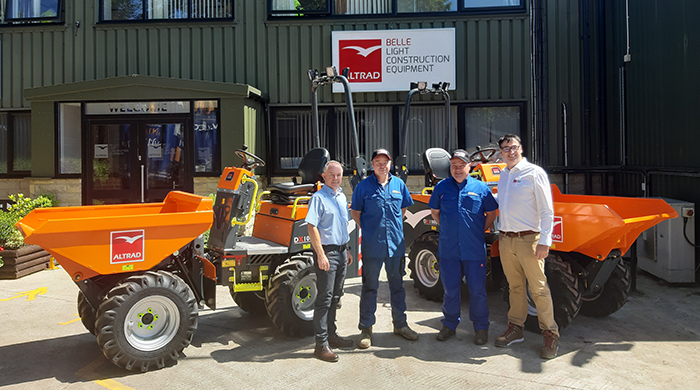 The first 2 machines recently came off the end of the production line and were collected by David & Jason Fielden, owners of EPS Hire Centres, who showed great a determination to be the first owners of these industry leading dumpers (Pictured above with Altrad Belle MD Ray Neilson and Regional Sales Manager Stuart Harris)
For more information and technical spec click here
#DumpTheRestTryTheBest