05/06/2017
Plantworx 2017 – It's Showtime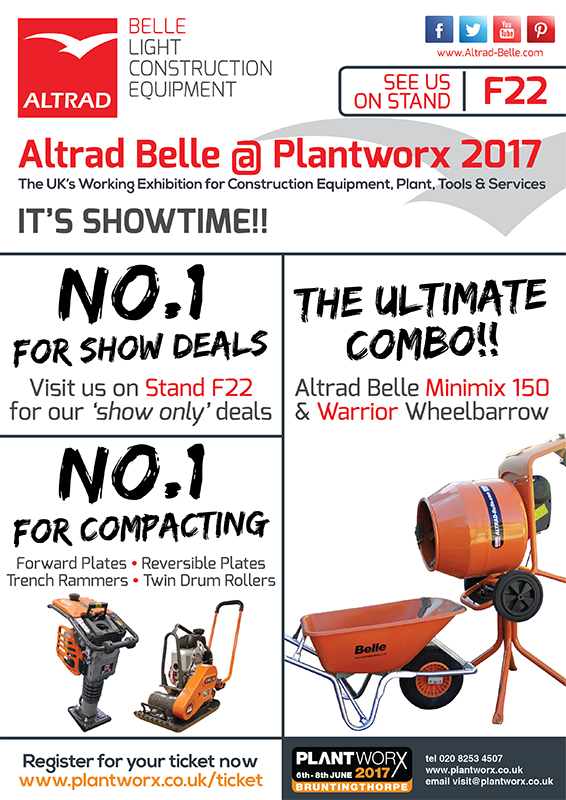 Plantworx 2017, the 'UK's Working Exhibition for Construction Equipment, Plant, Tools & Services' has finally arrived. The exhibition is Free to Visit with Free Parking and fully packed with 3 Days of Live Demonstrations.
Altrad Belle will showcase British manufacturing at its best; as it continues to reinforce its position as 'No.1 For Light Construction Equipment'.
There will be live demonstrations showcasing the capabilities of the NEW GPX Generators, PWX Pressure Washers and RPX 35 Reversible Plates alongside the other products in our range as Altrad Belle try to add to the awards of Best Live Demonstration in 2013 and Best Outdoor Static Stand in 2015.
Contractors & Hirers can visit our hands-on demonstration area to "feel the difference" from our extremely powerful PWX Pressure Washers and a large line-up of "low hand & arm vibration" compaction equipment.
There will be much more to see on the Altrad Belle stand and a selection of 'Show Only' deals. The exhibition which takes place for 3 days between the 6th – 8th June is once again held at Bruntingthorpe Aerodrome (Lutterworth, Leicestershire)
You can register for your Free Ticket at the following address:- www.plantworx.co.uk/ticket
We look forward to seeing you all at Plantworx 2017.
You can also keep up to date with all the build-up at www.Altrad-Belle.com & www.plantworx.co.uk