06/04/2017
Plantworx 2017 - 2 Months To Go....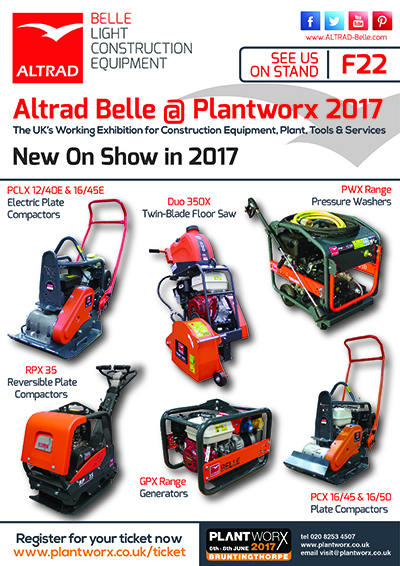 Plantworx 2017, the 'UK's Working Exhibition for Construction Equipment, Plant, Tools & Services' is edging ever closer and is now just 2 months away. The exhibition is Free to Visit with Free Parking and fully packed with 3 Days of Live Demonstrations.
It's an exciting time for Altrad Belle with a number of NEW products and product ranges being launched. Here's a taster of what you will see on the Altrad Belle Plantworx stand for the first time.


GPX Generators – 'Back by popular demand' with the GPX Range of open-set petrol Generators with 'Patent-Pending' stackable frame design.
PWX Pressure Washers – 'Causing a Storm' with the launch the PWX Range of high pressure, cold water washers.
RPX 35 Reversible Plates – 'Built for the harshest conditions' with greater power, faster travel speeds and ability to climb steeper gradients.
Duo 350X Twin Blade Floor Saw – 'Get faster results' with the Twin Blade Floor Saw offers a cutting width of 100mm for digging narrow trenches for cable installation.
PCLX 12/40E & 16/45E Electric Plates – 'Laying the foundations for a greener future' with the new eco-friendly, easy to maintain electric plate compactor range.


There will be much more to see on the Altrad Belle stand and a selection of 'Show Only' deals. The exhibition which takes place for 3 days between the 6th – 8th June will once again be held at Bruntingthorpe Aerodrome (Lutterworth, Leicestershire)
You can register for your Free Ticket at the following address:- www.plantworx.co.uk/ticket
We look forward to seeing you all at Plantworx 2017.
You can also keep up to date with all the build-up at www.Altrad-Belle.com & www.plantworx.co.uk