06/03/2017
Plantworx 2017 - 3 Months To Go....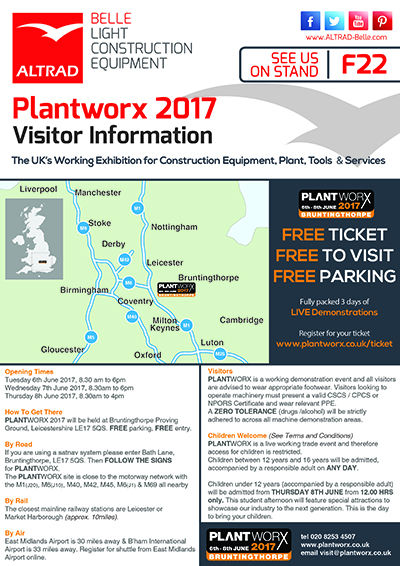 Plantworx 2017 is on the horizon and Altrad Belle will once again be attending to exhibit their exciting range of Light Construction Equipment!
Plantworx 2015 was a huge success for all involved and proved to be our best exhibition yet, winning the award for the Best Outdoor Static Stand, to accompany the award for Best Live Demomstration we won at the 2013 exhibition.
Plantworx 2017 is the 'UK's Working Exhibition for Construction Equipment, Plant, Tools & Services' and is Free to Visit with Free Parking and fully packed with 3 Days of Live Demonstrations.
The exhibition which takes place for 3 days between the 6th – 8th June will once again be held at Bruntingthorpe Aerodrome (Lutterworth, Leicestershire)
You can register for your Free Ticket at the following address:- www.plantworx.co.uk/ticket
There will be plenty more updates from us over the coming weeks, with information on exciting NEW products ranges, 'Show Only' deals and a blog to capture the trials and tribulations of our stand build.
We look forward to seeing you all at Plantworx 2017.
You can also keep up to date with all the build-up at www.Altrad-Belle.com & www.plantworx.co.uk